Play To Win
Tips and strategies to help make you a winning casino player

Game Rules
Learn: Blackjack, Baccarat, Craps, Roulette, Slots, Video Poker, Pai Gow Poker, Texas Hold'em, Caribbean Stud, Let It Ride, Casino War, Big Six, Sic Bo (NEW!)

Systems Gallery
Win more, more often with proven betting methods from the systems gallery

Order Form
A secure on-line order form to purchase products advertised by Let's Talk Winning.

Playing Online
All about gambling at online casinos. Find out where the best deals are

Best Casino Bonuses - NEW!
The best collection of on-line casino bonuses, where you can cash $802 on your sign-up.

Links and Things
Sign our guestbook, refer a friend, link to other gambling sites.

Gambling News - NEW!
Latest Gambling News - updated daily including gambling articles, joke of the day and a gambling dictionary.

Newsletter
Click above to read the current edition of our weekly newsletter. Then get your own free subscription right here.

Please tell all your friends about it.

On-Line Forum
Post a gambling question or opinion - get an answer . . .
---
Below is a selection of the most recommended
on-line casinos
and sportsbooks
Check out:
On-Line Casino of the Month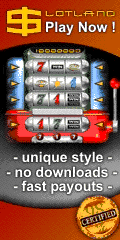 ============================================================= Sunday, May 7, 2017

The new Triangle System by Izak Matatya

Dear Let's Talk Winning subscribers, customers, friends,
Have you heard of the Pascal Triangle?
If not, here is a little introduction:
In the above image we see a few rows of numbers, the top row having 1, the second row 1 1, the third row 1 2 1, the fourth row 1 3 3 1 ,etc.

In the third row, the "2" is formed by the sum of 1 and 1 of the previous row as the small lines indicate.

In the fifth row, the "4" is formed by the sum of the 1 and 3 of the previous row. In the same row, the "6" is formed by the sum of 3 and 3 of the previous row, right on top of the 6, etc.

The very first and last numbers of each row is always 1.

The Pascal triangle is usually useful for finding the probability of events where there are only two possible outcomes, such as heads and tails when flipping a coin or Banker and Player in Baccarat.

For example, if you flip a coin three times, there is only one combination that will give you three heads (HHH), but there are three combinations that will give two heads and one tail (HHT, HTH, THH), also three that give one head and two tails (HTT, THT, TTH) and one for all Tails (TTT).

Or, if you bet three times in baccarat, there are eight (2x2x2 or 2 to the power 3) possibilities:

BBB BBP BPB PBB PPB PBP BPP PPP

This is exactly the pattern 1 3 3 1 in the above Pascal Triangle in row 4, meaning that there is only one way of obtaining all Bankers or all Players for those three bets, but three ways of obtaining two Bankers and one Player, or two Players and one Banker.

In terms of probabilities, the chances of the possible outcomes are:

3 Bankers or 3 Players: 1/8 (one in eight)
2 Bankers and 1 Player or 2 Players and 1 Banker: 3/8 (three in eight)

Take a look at row 5 of the Pascal Triangle above. You can see that for a set of four bets, one Player and three Bankers is four times as common as having four Bankers and no Player, while a set of four bets with two Bankers and two Players are six times as common. There is only one chance in 16 (2 to the power 4) of a set of four having all Bankers or all Players, which shows us the pattern:
1 4 6 4 1.

Well, now that you know what your chances and probabilities are to win, can you use the Pascal triangle to go to the casino and make profits? I don't think so, either.
It's a useful triangle, but if you really want to win on the long run with small bets, you will need my new Triangle System, which uses different aspects of the triangle's features and characteristics.
In fact, Pascal Triangle has many features. For instance, take a look at the following picture: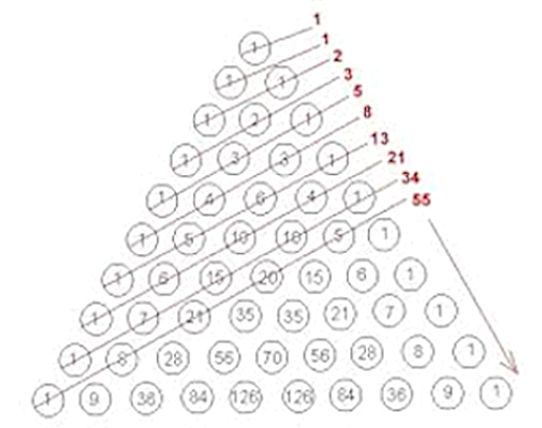 If you follow the diagonal lines and sum up the figures, yes, you get the Fibonacci sequence, that we are all acquainted with and some gambling systems have been devised using this sequence.
The Triangle System will use Pascal's Triangle in a very special way and you will be certainly amazed with the results, whether you use it for even bets in Baccarat, Roulette, Craps, etc. or dozens in Roulette.
Just to give you an idea, the Triangle system beats all Zumma tester books, the 600 shoes and the 1K in all Zumma and random mode.
For the Zumma 600 shoes, it generates 2162 units.
For the Zumma 1K shoes, it generates 1322 units for the first half and 1778 units for the second half.
Thus, a total of 5262 units are generated for the 1600 Zumma shoes, averaging 3.3 unit per shoe. Since your highest bet never exceeds 20 units, you can use any chip denomination that your budget allows.
All those results are shown in MS-Excel simulations and will be provided to you upon your purchase.
You may request different bet selections that will show the same type of results.
Profits constantly and consistently rise, as shown in the following performance chart: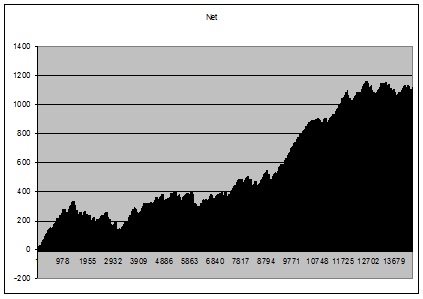 5 units were the overall drawdown relative to the initial use of the system.
The system will be very easy to understand and immediately applicable to start making profits with it within minutes.
The system document is not more than 15 pages with numerous examples of different situations, in fact, all situations to consider, from the worst to the best case scenarios.
The system is not of a grind type, that generates only 1 unit per run, but multiple units.
Abandoned runs can be as low as 5 units.
In short, with a very small amount of bankroll, such as 40 units per session and 80 units lifetime, you will be able to win a lot with the Triangle system.
Even the price of the system is within budget. For not more than $200, you can get hold of this great Triangle system. And yes, as always, you can have an early bird discount and have 50% off on the system and purchase it for a mere $100, if you place your order by the end of May 2017.
For $10 extra you can have a printout of the system document shipped to your mailing address.
You have a full money back guarantee, if the system is not to your satisfaction, no questions asked, no strings attached, you can return it within 30 days of your purchase.
Click here to order. You will be very pleasantly surprised!
Thank you!
Izak Matatya
P.S. PayPal orders are welcome to my id: izak.matatya@videotron.ca
www.letstalkwinning.com

www.izakmatatya-digitalart.com (NEW! - yes, you can purchase my digital contemporary art, too, at the new on-line store - and if you do, you will receive any of my gambling system of your choice for free - just email me after your purchase with your proof of purchase!)
Email: webmaster@letstalkwinning.com or izak.matatya@videotron.ca
Systems Gallery: http://www.letstalkwinning.com/gallery.htm
Newsletter: http://www.letstalkwinning.com/winalert.htm
Newsletter Archive: http://www.letstalkwinning.com/archive.htm
Recommended On-Line Casinos: http://www.letstalkwinning.com/bestonline.htm
Discussion Forum: http://www.letstalkwinning.com/forum/
Izak Matatya's new contemporary digital art online store: https://www.izakmatatya-digitalart.com

---
WOULD YOU LIKE TO SUBSCRIBE? Click here.
---
If you missed any newsletter, click here for an archive.
---
Poker Guide - The world's largest poker guide PokerListings.com with reviews of 750 poker sites.

Texas Holdem - Page that compares 45 Texas Holdem online poker rooms on a number of relevant features.
---